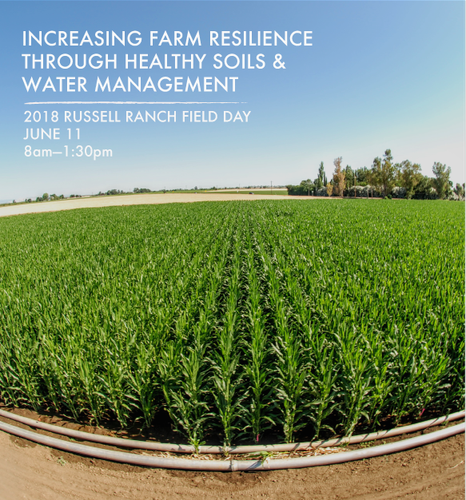 Increasing Farm Resilience Through Healthy Soils & Water Management
As emphasis is increasingly being placed on decreasing water use and improving soil health in managing agroecosystems in the state of California, researchers at UC Davis have tackled projects looking at the crop and soil effects of subsurface drip irrigation targeted to the root zone. 
At this year's Russell Ranch Field Day, participants learned about the results of these studies that have evaluated crop roots, crop quality, and soil microbial communities in subsurface drip irrigation systems. At hay wagon tours in the morning, researchers gave presentations at field plots  where researchers measure soil, crop, and irrigation attributes of different cropping systems across Russell Ranch. In the barn, researchers discussed environmental, microbial, and long-term trends of tomato systems in northern California. And the grower panel talked about soil health and the challenges and innovations taking place at California farms.
PRESENTATIONS
STOP 1:  Farming Systems (10 min. each)
Long-Term Yield Trends in The Century Experiment after 24 Years   (Nicole Tautges; poster)
Soil Health Assessment at Russell Ranch   (Kate Scow)
Considering Management and Landform on Micronutrient Availability   (Devin Rippner)
STOP 2:  Soil and Plant Health (10 min. each)
Impact of Subsurface Drip Irrigation on Soil Health (Deirdre Griffin)
Impact of Irrigation Management on Tomato Roots and Rhizosphere (Amelie Gaudin)
Kernza in California* (Kalyn Diederich and Mark Lundy)
STOP 3:  Irrigation and Soil Amendments   
Dairy Manure Effects on Soil Health Metrics*   (Daoyuan Wang and Jordan Sayre)
Deficit Irrigation Strategies to Optimize Processing Tomato Quality and Yield   (Meng Li)
BARN PRESENTATIONS
11:00-11:10  Environmental Impacts of California Tomato Production and Processing   
(Sonja Brodt)
11:10-11:20  Soil Microbial Changes with Different Crop Management Systems (Eoin Brodie)
11:20-11:30  Soil Food Webs in Agricultural Soils (Franz Bender)