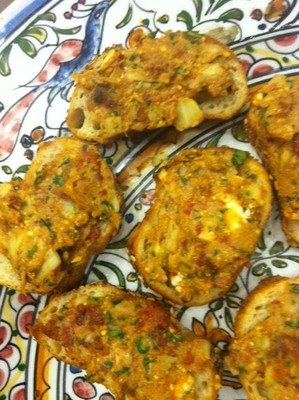 By: Kate Scow
Adapted From: From The Little Yellow Kitchen
Total time: 5 minutes
Makes 2 cups
Ingredients:
12 oz. Artichoke hearts, drained
Light feta cheese, crumbled and divided, to taste (about 1-2 cups)
2 Cloves of garlic, minced
3 Tbsp lemon
1 Tbsp lemon zest
Rehydrated dried tomatoes to taste (about 2 cups), coarsely chopped
1 Cup basil leaves, torn
2 Tbsps plain nonfat Greek yogurt
1 Tbsp olive oil
1 Tsp red pepper flakes
Pepper, to taste
Whole grain crackers, or crostini/toast to serve with
Directions:
1.In the food processor pulse about half of the drained artichoke hearts, half of the crumbled feta cheese, a third of the sun-dried tomatoes, garlic, olive oil, Greek yogurt, lemon juice and zest, and pulse until fairly smooth. Add in the pepper, red pepper flakes and half of the fresh basil and pulse a few times until it is coarsely chopped.
2.Transfer to a mixing bowl, and combine the processed mixture with the remaining chopped artichokes, crumbled feta, chopped sun-dried tomatoes, and torn basil. Adjust seasonings as needed. If you like more garlic, feel free to add an extra clove or sprinkle some garlic powder into the mix.
3.For best flavor, cover and let sit in the fridge, overnight, or at least a few hours! Then spread on your favorite crackers or crostini.