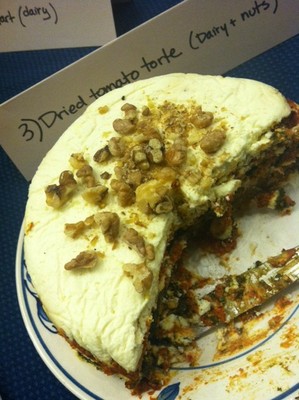 By: Emma Torbert
Adapted From: http://www.epicurious.com/recipes/food/views/Sun-Dried-Tomato-and-Pesto-Torta-102634
Makes around 20 servings
Make sure to start at least one day in advance (can be made up to 3 days in advance)
Ingredients:
4 Garlic Cloves
1 ½ cups (packed) fresh basil leaves
¼ cup pine nuts
2 tablespoons extra-virgin olive oil
1 teaspoon fresh lemon juice
2 2/3 cups cream cheese, room temperature (about 21 ounces)
¼ cup freshly grated Parmesan cheese
1 1/3 cups drained oil-packed dried tomatoes
1/3 cup tomato paste
¾ cup butter, room temperature
Nonstick vegetable oil spray
Fresh Basil Springs
Toasted Pine Nuts
Baguette slices, toasted
Directions:
1. Finely chop garlic in processor. Add basil, 1/4 cup pine nuts, oil and lemon juice. Process until well blended. Add 1/3 cup cream cheese and 1/4 cup Parmesan cheese. Using on/off turns, process just until blended. Transfer pesto to medium bowl. Prepared or frozen pesto can also be used. 
2. Coarsely chop tomatoes in processor. Add tomato paste and process until mixture is almost smooth. Add 1/3 cup cream cheese and blend well.
3. Using electric mixer, beat 2 cups cream cheese and butter in large bowl until fluffy. Season with salt and pepper.
4. Spray 6-cup soufflé dish with nonstick spray. Line with plastic wrap, extending plastic over sides. Spread 3/4 cup cream cheese-butter mixture evenly over bottom of prepared dish.  Put container in freezer for 1-2 minutes before layers. Top with half of tomato mixture, then 1/2 cup cream cheese-butter mixture, then half of pesto mixture. Repeat layering with 1/2 cup cream cheese-butter mixture, remaining tomato mixture, 1/2 cup cream cheese-butter mixture and remaining pesto. Top with remaining cream cheese-butter mixture. Cover and chill overnight. (Can be made 3 days ahead. Keep refrigerated.)
5. Invert torte onto platter. Peel off plastic. Garnish with basil sprigs and toasted pine nuts. Serve with baguette slices.