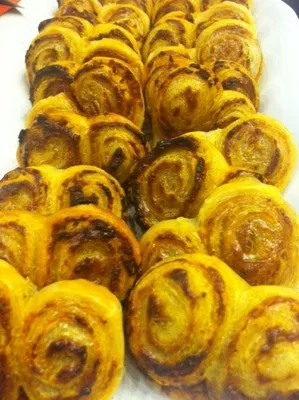 by Eve Hightower and Ryan Galt
Ingredients:
Dried tomato pesto (see recipe below) Puff pastry (available in freezer section)
1 egg, beaten
Directions:
1. An hour before making the pesto for the palmiers, hydrate about 3/4 cup dried tomatoes by placing them in water. Drain after an hour of soaking.
2.Make Pesto
Ingredients:
2 tbsp cashews
2-3 garlic cloves
1&1/2 cups firmly packed fresh basil leaves
1/4 cup extra-virgin olive oil, plus more as needed
1/2 cup grated Parmigiano-Reggiano cheese
2 tbsp feta
Freshly ground pepper, to taste
1 cup Russell Ranch dried tomatoes, hydrated (see step 1)
Directions:
In a food processor, combine the nuts and garlic. Process to chop coarsely. Add about half of the basil and process to chop coarsely. Add the remaining basil and olive oil and process until a thick green sauce forms. Add the cheeses and dried tomatoes and season with pepper. Process briefly. The pesto should be thick but spreadable — if it is too thin, add more basil or dried tomatoes; if it is too thick, add more olive oil.
3. On a well-floured surface, roll out puff pastry to the thickness of a nickel, making a large rectangle.
4. Spread pesto thinly and evenly on puff pastry, 1/2 cup or less per sheet.
5. Roll the long ends of the puff pastry inward until they meet in the middle.
6. Cut roll cross-wise into 1 cm wide palmiers. Shape into hearts.
7. Place on parchment paper on baking sheet, coat top and edges with beaten egg, and bake at 400°F for 15 minutes.