The goal of sustainable agriculture is to meet society's food and textile needs in the present without compromising the ability of future generations to meet their own needs. Practitioners of sustainable agriculture seek to integrate three main objectives into their work: a healthy environment, economic profitability, and social and economic equity. Every person involved in the food system—growers, food processors, distributors, retailers, consumers, and waste managers—can play a role in ensuring a sustainable agricultural system.
There are many practices commonly used by people working in sustainable agriculture and sustainable food systems. Growers may use methods to promote soil health, minimize water use, and lower pollution levels on the farm. Consumers and retailers concerned with sustainability can look for "values-based" foods that are grown using methods promoting farmworker wellbeing, that are environmentally friendly, or that strengthen the local economy. And researchers in sustainable agriculture often cross disciplinary lines with their work: combining biology, economics, engineering, chemistry, community development, and many others. However, sustainable agriculture is more than a collection of practices. It is also process of negotiation: a push and pull between the sometimes competing interests of an individual farmer or of people in a community as they work to solve complex problems about how we grow our food and fiber.
 Topics in sustainable agriculture
Directory of UC Programs in Sustainable Agriculture
The UC Programs | Sustainable Agriculture and Food Systems directory is a catalog of UC's programmatic activities in sustainable agriculture and food systems. The directory can be searched and sorted by activities and topic areas.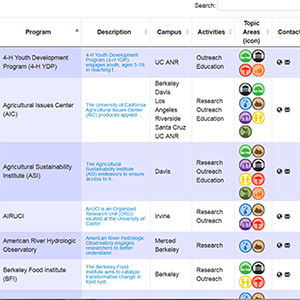 The Philosophy & Practices of Sustainable Agriculture
The rest of this page delves further into the philosophy and practices underpinning sustainable agriculture. Or visit the links to the right to visit practical pages for practicing sustainable agriculture.
---
FOR MORE INFORMATION:
Contact the UC Sustainable Agriculture Research and Education Program, University of California, Davis, CA 95616, (530) 752-7556. Written by Gail Feenstra, Writer; Chuck Ingels, Perennial Cropping Systems Analyst; and David Campbell, Economic and Public Policy Analyst with contributions from David Chaney, Melvin R. George, Eric Bradford, the staff and advisory committees of the UC Sustainable Agriculture Research and Education Program.