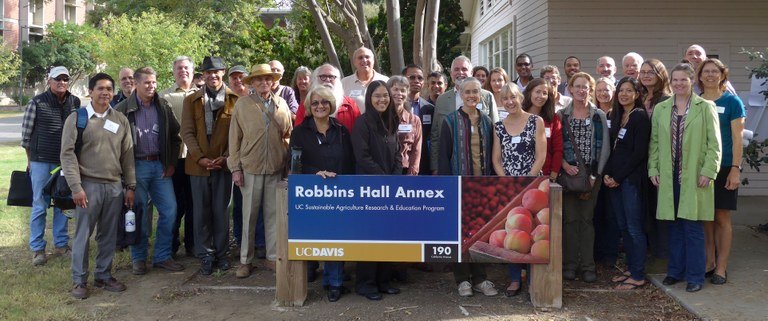 ASI's external advisory board is structured to reflect a wide range of differing perspectives and draws from leaders in their respective fields, including farmers and ranchers; agricultural, environmental, and community organizations; food manufacturers and retailers; educators; policymakers; and the media. This board also serves the functions of SAREP's Program Advisory Committee. The inaugural board will serves for terms of two or three years. Additional board members can be designated as needs and opportunities arise.
---
Members as of November, 2016 (in alphabetical order)
See board member biographies here.
Ashley Boren*, Executive Director, Sustainable Conservation, San Francisco, CA
Renata Brillinger, Executive Director, California Climate & Agriculture Network (CalCAN), Sebastopol, CA
John Diener, President, Red Rock Ranch, Five Points, CA
Michael Dimock, President, Roots of Change, San Francisco, CA
John Foraker, Chief Executive Officer, Annie's Inc., Berkeley, CA
Harold Goldstein, Executive Director, California Center for Public Health Advocacy
Carl Johnson*, Chairman of the Board, Nautilus, Inc., San Francisco, CA
AG Kawamura*, Founding Member, Orange County Produce, Irvine, CA, and former Secretary, California Department of Food and Agriculture, Sacramento, CA
Barry Kriebel, President, Sun-Maid Growers of California, Kingsburg, CA
Russ Lester, Co-Owner, Dixon Ridge Farms, Winters, CA
Joann Lo, Co-Director, Food Chain Workers Alliance, Los Angeles, CA
Marshall McKay, Chairman Emeritus, Yocha Dehe Wintun Nation, Brooks, CA
David Meddaugh, Senior Vice President, Specialty Food & Beverage, Bank of America, Merrill Lynch
Puon Penn, Executive Vice President/Co-Head, Wells Fargo's Technology Banking Group, Palo Alto, CA
Amparo Perez-Lemus, AP Lemus & Associates Marketing and Public Relations, Davis, CA
Karen Ross, Secretary, California Department of Food and Agriculture, Sacramento, CA
D'Artagnan Scorza, Founder and Executive Director, Social Justice Learning Institute, Los Angeles, CA
Howard-Yana Shapiro*, Chief Agricultural Officer, The First Mars Advanced Research Institute Fellow, Mars, Inc; Senior Fellow, Department of Plant Sciences, Plant Productive Biology, College of Agricultural and Environmental Sciences, UC Davis; Distinguished Fellow, The World Agroforestry Centre, Nairobi, Kenya, Davis, CA
Rachel Surls, Sustainable Food Systems Advisor, UC Cooperative Extension Los Angeles County, Los Angeles, CA
Kat Taylor*, Founder, TomKat Ranch Educational Foundation; Co-CEO, Beneficial State Bank, ASI Board Chair, San Francisco, CA
Thomas Turini, Vegetable Crops Farm Advisor, UC Cooperative Extension Fresno County, Fresno, CA
Paul Wenger, President, California Farm Bureau Federation, and farmer, Modesto, CA
* indicates members of the Executive Committee
Ex Officio members
Matthew Bridges, Undergraduate Student Representative, Sustainable Agriculture and Food Systems Major, University of California, Davis
Helene Dillard, Dean, College of Agricultural & Environmental Sciences, University of California, Davis
Glenda Humiston, Vice President, Agriculture and Natural Resources, University of California, Oakland, CA
Gabriel Patterson, Graduate Student Representative, Agricultural and Environmental Chemistry Graduate Group, University of California, Davis
Emeriti
Barbara Allen-Diaz, Vice President, Agriculture and Natural Resources, University of California, Oakland, CA
Marcus Benedetti, President & Chief Executive Officer, Clover Stornetta Farms, Petaluma, CA
Mary Delany, Former Interim Dean, College of Agricultural and Environmental Sciences, University of California, Davis, CA
Daniel M. Dooley, Senior Vice President, External Relations, UC Office of the President; and Special Advisor, Agriculture and Natural Resources, University of California, Oakland, CA
Greg Drescher, Vice President, Strategic Initiatives & Industry Leadership, Culinary Institute of America, St. Helena, CA
Mable Everette, CEO and Founder, Community Nutrition Education Services, and 2007 Roots of Change Leadership Fellow, Inglewood, CA
Cornelius Gallagher, Senior Vice President, Food, Agriculture and Wine Executive, Bank of America, Roseville, CA
Jonathan Kaplan, Senior Policy Specialist at the Natural Resources Defense Council (NRDC), San Francisco, CA
Martha Guzman-Aceves, Deputy Legislative Secretary, Governor Edmund G. Brown Jr., Sacramento, CA
Craig McNamara, President, California State Board of Food and Agriculture, Sacramento, CA; President, Sierra Orchards; and Co-Founder, Center for Land Based Learning, Winters, CA
Haider Nazar, Chief Executive Officer, Full Throttle Ventures, Walnut Creek, CA
Michael Pollan, Contributing writer to the New York Times, author, and Knight Professor of Science and Environmental Journalism, University of California, Berkeley, CA
Judith Redmond, Owner and Partner, Full Belly Farm, Guinda, CA
Richard Rominger, Rominger Farms, Winters, CA
Jennifer Ryder Fox, Dean, College of Agriculture, California State University, Chico
Nita Vail, Chief Executive Officer, California Rangeland Trust, Sacramento, CA
Neal Van Alfen, Dean Emeritus and Professor, College of Agricultural & Environmental Sciences, University of California, Davis, CA
David Wehner, Former Dean, College of Agriculture at California Polytechnic State University, San Luis Obispo, CA
Former Student Representatives
Andrew Baskin, Sustainable Agriculture & Food Systems, University of California, Davis
Kelly Gravuer, Ecology Graduate Group, Plant Sciences Department, University of California, Davis
Janaki Jagannath, UC Davis Students for Sustainable Agriculture

Maggie Lickter, UC Davis Students for Sustainable Agriculture

Meredith Niles, UC Davis Ecology Graduate Group

Katharina Ullmann, UC Davis Graduate Student, Department of Entomology

Kase Wheatley, Student Representative, UC Davis Undergraduate, Sustainable Agriculture & Food Systems

Margaret Worthington, UC Davis International Agricultural Development Graduate Group