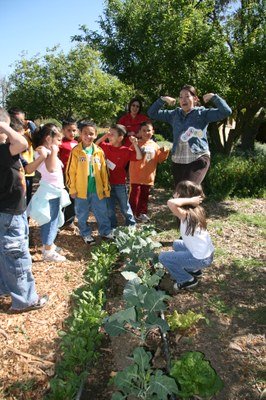 In this learning community we manage our garden to be productive, inviting, and environmentally sound. Students experience and share many principles of ecological horticulture and related subjects.
Our garden ecosystem follows patterns we learn from nature, providing us with opportunities to understand fundamental biological and ecological processes. In addition to diverse plantings, the Ecological Garden includes seed saving efforts, mushroom cultivation, and a washing station used for harvested herbs, fruits, and vegetables.
The Ecological Garden is the central site for our Kids in the Garden & Farm field trips for elementary school children, the student led Flower Project and also the site for workshops and activities of the UC Davis School Gardening Program.