Student Farm Farmstand
Flowers and organic produce are available for purchase at the Student Farm Farmstand Mondays from noon to 3 PM.  The farmstand is on Extension Center Drive -- look for white pop-up tents to the right as you drive to the shop (see google map link). Students launched the farmstand in fall 2021 and manage sales each week, which allows both CSA members to pick-up shares and the UC Davis community to purchase produce directly from the farm. The summer farmstand features organic vegetables like tomatoes, peppers, squash, sweet corn, melons, beans, cucumbers, basil, onions, grapes, figs, okra and more. Check out our instagram page for updates and announcements on u-pick events and closures for holidays and break weeks between quarters. 
Flower Sales and CSA
Sustainably grown flowers are available from the Student Farm all year long. At the farm, students learn to grow, harvest, and care for flowers, and manage all aspects of our flower CSA and sales. 
Flower CSA
If you are a UCD student or employee, you can sign up for the flower CSA and receive a bouquet each week for $15.00, paid in advance quarterly (students pay $12/week). Contact studentfarmflowers@ucdavis.edu for more information or to sign up for a quarterly flower CSA membership.
Special Occasion Flowers
We offer two sizes of flower arrangements in vases, and DIY buckets of flowers and foliage that you can arrange in your own vases. To order special occasion flowers from the Student Farm, please fill out this form or contact studentfarmflowers@ucdavis.edu 
Student Harvest Produce CSA
The Market Garden manages a 100-member Community Supported Agriculture (CSA) program—a produce subscription service that allows community members to enjoy a weekly basket of fresh fruits and veggies. Student farmers participate in all phases of the CSA operation, from planning and field preparation to harvesting produce and packing the baskets.

Student Harvest baskets are filled with a diverse mix of seasonal produce each week. Summer baskets may contain tomatoes, peppers, squash, sweet corn, melons, beans, cucumbers, basil, bulb onions and various tree fruits. A winter basket might contain lettuce, broccoli, carrots, spinach, beets, cabbage, fresh herbs and citrus. Subscribers receive a weekly newsletter about with recipes, information on who picked your produce, and CSA-related events and activities.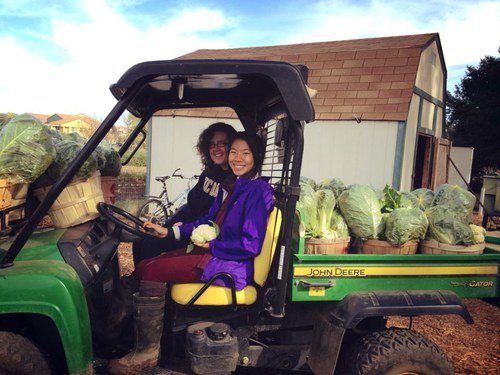 Becoming a Student Harvest CSA member
Subscribers must be UC Davis students and employees. The subscription fee is $31/week (non-student) or $28/week (student), paid in advance quarterly.  Due to our educational mission, the size of the Student Harvest CSA is limited, and we have a waiting list.
If you are interested in becoming a subscriber, or would like more information about subscriptions, contact us at: ucdstudentfarm@gmail.com.
Sales to Dining Services, the Coffee House, and UC Davis Farmers Market
Driven by a goal to become more sustainable, UC Davis Dining Services has made a financial and personnel investment in buying from the Market Garden and other local growers. The Dining Services get fresh, local produce at wholesale prices and use that produce to make delicious meals for students eating in the dining commons, while highlighting nutritional well-being and sustainability.
Our partnership with Dining Services has increased over the years, which has bolstered the learning opportunities for a greater number of students. More sales requires growing more crops and more student participation. The increased income also allows us to hire more students and to give these students more responsibility.
We have been selling fresh produce to the ASUCD Coffee House for over 30 years, and our produce is available for purchase at the UC Davis Farmers Market, which operates fall and spring quarters.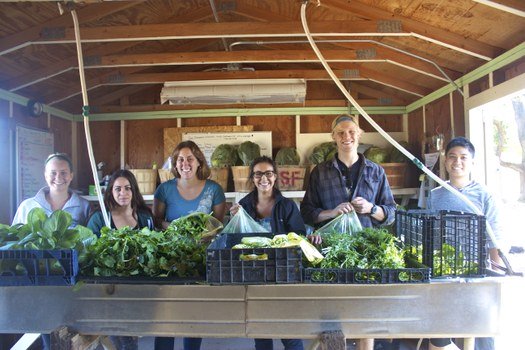 Addressing Student Food Security
The Student Farm is dedicated to addressing food insecurity among the student population. The Fresh Focus program, a component of the Community Table Project, is a student-led initiative that connects produce from the Student Farm with food access programs on campus. Fresh Focus donates produce to the Pantry and Fruit and Veggie Up! on campus to make fresh, student-grown, organic produce available to any UC Davis student without charge. We now send weekly deliveries to additional partners: the Educational Opportunities Program, Native American Academic Success Center, the Cross Cultural Center, LGBTQIA+ Resource Center and the AB540 and Undocumented Student Center. We also contribute produce to various campus events throughout the year.