Location
Plant and Environmental Sciences Building, Room 3001, UC Davis
For Kat Taylor, banking is our original and most powerful form of crowdfunding so it's important to get it right. She co-founded Beneficial State Bank to help better align banking to benefit all and harm none. Join us in a conversation on how banking can play an integral role in building a sustainable food system.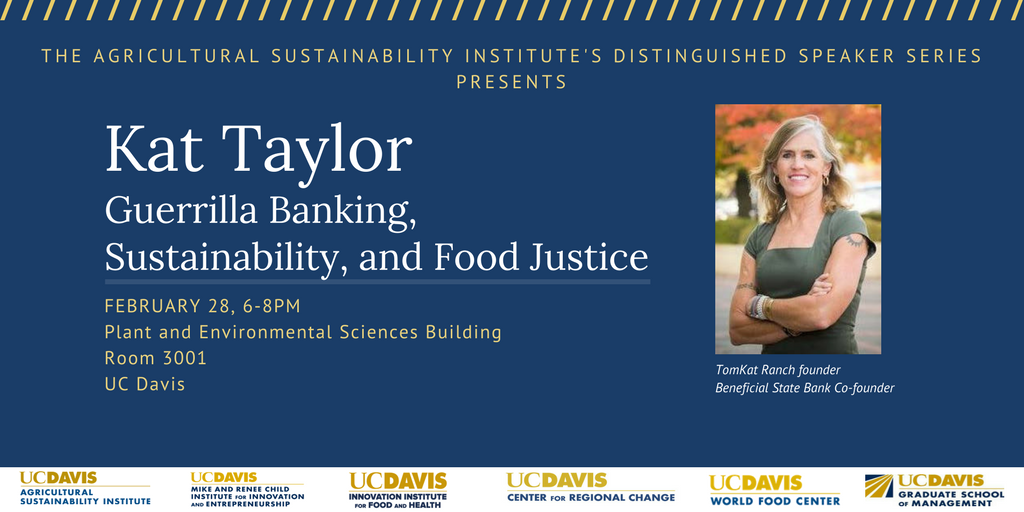 More about Kat Taylor:
Kat Taylor is intent on changing the food and banking systems for good through business models and philanthropy. She believes that agriculture represents the dominant way we tend the planet, for better or for worse.Kat is the Founder of TomKat Ranch Educational Foundation, a learning lab for strategies to re-sequester carbon into soils, enhance water quality and retention, and restore biodiversity, all while producing a healthy food product. TomKat Charitable Trust, the family charitable vehicle, funds a robust ecosystem for food system change to complement the working ranch activities. Among the Trust's priorities are big buyer strategies to shift supply chains beneficially, empowerment of eaters from all settings (from basic agro-ecology research to protection of transparency in food markets), and food movement-building. Kat and her husband started Beneficial State Bank in 2007. Beneficial State Bank is owned in the public interest, reinvesting profits into the low-resourced communities it serves and the earth upon which we all depend. Kat serves as Co-CEO of the bank and Co-Chair of the bank and bank holding companies. Kat also supports all efforts to avert climate disaster and restore broad-based prosperity.
Free and open to the public. If you are interested in attending, RSVP here.