Location
Room MU2, Memorial Union
Refreshments served at 2:30, event begins at 3:00p.m.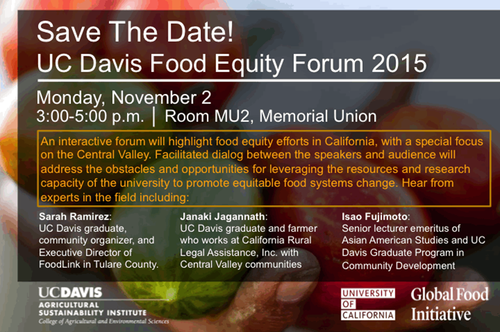 An interactive forum will highlight food equity efforts in California, with a special focus on the Central Valley. Facilitated dialog between the speakers and audience will address the obstacles and opportunities for leveraging the resources and research capacity of the university to promote equitable food systems change.
Hear from experts in the field including:
Sarah Ramirez

Janaki Jagannath

Isao Fujimoto

UC Davis graduate, community organizer, and executive Director of FoodLink in Tulare County

UC Davis graduate and farmer who works at California Rural Legal Assistance, Inc. with Central Valley Communities

 

Senior lecturer emeritus of Asian American Studies and UC Davis Graduate Program in Community Development
Sponsored by the Agricultural Sustainability Institute and the Global Food Initiative.