Using our sustainability issues and indicators assessment, we seek to provide food systems stakeholders with a useful list of indicators that will help them better understand how to prioritize beneficial sourcing practices in a way that is both efficient for their business or organization and comprehensively covers the sustainability issues of a particular commodity or region.
With the expansive number of issues that affect sustainability and the myriad ways that those issues can be measured and evaluated,
How do you choose a manageable set of indicators?
How do we know that the list we choose is the right list to focus appropriately, but still be comprehensive? 
Our Checklist generator process and optimization tool determine a minimum set of indicators that comprehensively covers sustainable sourcing.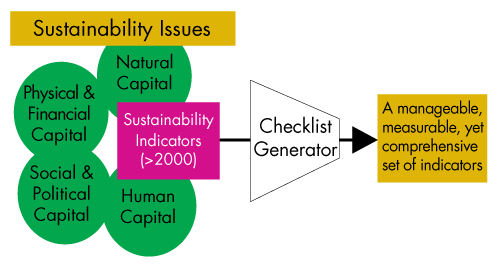 Please contact us at sustainablesourcing@ucdavis.edu to arrange a demo and/or access to the tool.
We are constantly in the process of adding and assessing indicators, and will be building in additional filters and tags to help focus the suite of indicators more readily. Your feedback and guidance on improvements to the usefulness and functionality of the tool will be most appreciated.