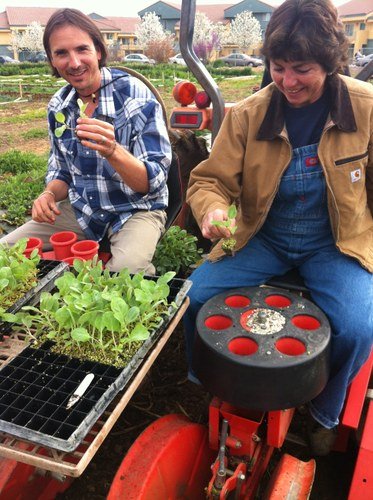 Internship and volunteer positions allow you to gain experience in a particular area of the farm. Most of these positions are in the Market Garden, Ecological Garden or Children's Garden Program. A few positions are also available in the vineyard, shop and other areas of the farm.

Interns earn academic credit (1 or more units) for their work at the farm. They will typically receive more mentoring than volunteers; they need to sign up prior to the start of the quarter, complete 30 hours of work for each unit they receive, and complete reflective written work weekly.

Volunteers can also have great learning experiences. They do not have specific requirements beyond their participation in farm activities and not receive academic credit. The Student Farm is committed to creating a diverse and inclusive learning environment. Students with a wide variety of backgrounds and interests are welcome and encouraged to become involved.
If you would like to intern or volunteer at the Student Farm, please come take a tour! You can also fill out our volunteer and internship interest form and someone will be in touch with you within a few business days.

If you have any questions, please e-mail us at studentfarminterest@ucdavis.edu.
 Most Student Farm interns and volunteers participate in one of the following projects, but there are many other opportunities for students to participate in the Student Farm. Let us know if you have an idea!
A half-acre garden of flowers, vegetables, culinary and medicinal herbs, fruit trees, vines and insectary plants used for teaching ecological horticulture, seed saving and related topics. Hours of operation: Ecological Garden work schedules change from quarter to quarter. Click here for Ecological Garden internships.
A seven acre section of the farm where students learn about small scale, organic vegetable production and marketing by doing it. Produce from the Market Garden is sold on campus via our CSA (community supported agriculture) program and through Dining Services abd the ASUCD Coffee House. Hours of operation: M – F, 8 and 12.  Click here for Market Garden internships.
A program that provides hundreds of students with a hands-on tour of the demonstration garden each spring. UC Davis students lead the tours after receiving training during winter quarter. Click here for more information on the Kids in the Garden Internship.
Interns gain experience in general farm operations, such as maintaining and operating farm equipment and irrigation systems. Availability: A limited number of shop internships are offered during Winter quarter.  Click here for Shop and Vineyard internships.
The farm's 1 acre vineyard of table grape varieties allows students to gain experience in vineyard management, including pruning, training, pest management, and irrigation. Availability: A limited number of vineyard internships are offered in Winter and Spring quarters; preference is given to students with viticultural knowledge and skills. Click here for Shop and Vineyard internships.
Our composting operations allow students to gain experience with farm-scale and garden-scale composting. See composting-focused internships listed under Ecological Garden Internships.
The Community Table Project is an evolving effort to look at ways the Student Farm can address campus food insecurity and start dialogue around the intersections of people, place, and food. The Community Table Project is divided into two focus areas: Fresh Focus and Community Connections. 
Fresh Focus
Interns in the Fresh Focus portion of the Community Table Project facilitate the process of harvesting, packing, and distributing produce grown at the SF for the ASUCD Pantry, Fruit & Veggie Up! and other campus partners. Interns also engage with their campus community  by preparing recipes, veggie fact sheets, and providing other resources directly at the produce distribution sites.
Community Connections
We offer Community Connection internships on an individualized and project-focused basis. Our past interns have worked on several different ways to engage with community members through social media, event, and workshop planning.
If you have an interest in either a Fresh Focus internship please fill out the Student Farm volunteer / intern interest form. If you're interested in a Community Connections internship please let us know using the Community Table Project contact page.
Student Collaborative Organic Plant Breeding (S.C.O.P.E) project research internship
We are a student-led collaborative of student and faculty plant breeders working on improving crop varieties for organic farming Systems. Using traditional plant breeding methods, we are developing new cultivars on certified organic land at the UCD Student Farm. We currently work with four crops: peppers, tomatoes, lima beans and common beans.