Location
UC Davis Conference Center, Ballroom B
We are pleased to announce this year's recipient of our annual agricultural sustainability leadership award, Daniel Mountjoy, Director of Resource Stewardship at Sustainable Conservation and UC Davis alumnus. Join us to celebrate his work and to hear a presentation from Patrick Mulvaney, Farm to Fork pioneer chef and restaurant owner in Sacramento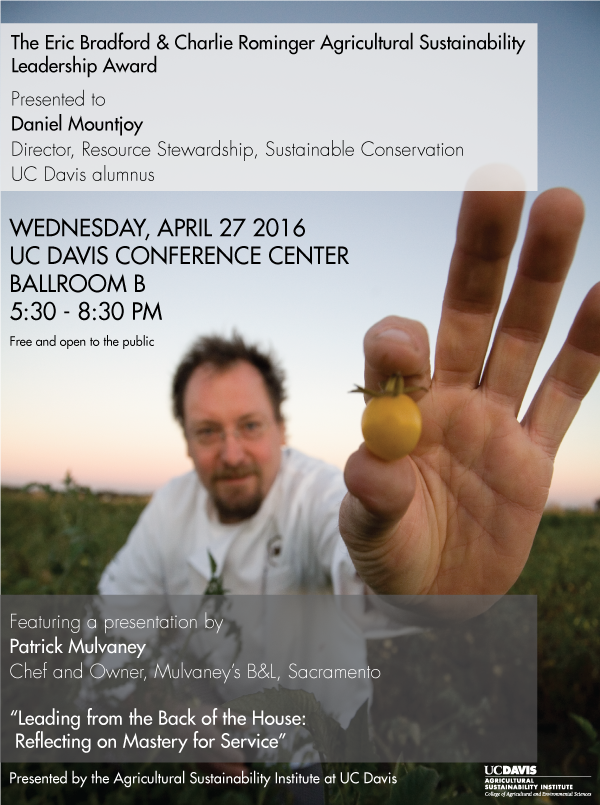 About Daniel Mountjoy
Daniel is the Director of Stewardship at Sustainable Conservation, where he is responsible for accelerating restoration through simplified permitting of small scale restoration projects, rewarding restoration through payments for measurable outcomes and establishing incentivizes for groundwater conservation and replenishment. 
Prior to joining Sustainable Conservation, Daniel was Assistant State Conservationist for the Natural Resources Conservation Service serving the California Central Coast and San Francisco Bay-Delta regions. During his 17-year career with NRCS he fostered partnerships with Resource Conservation Districts, technical advisors, researchers and the agricultural community to promote water quality and habitat protection practices, and led efforts to integrate food safety with conservation practices. He collaborated with Sustainable Conservation for more than a decade to pioneer and expand permit coordination programs for restoration projects.
Daniel earned a PhD in human ecology from UC Davis for his research on strategies to improve cross-cultural communication for resource management with Hispanic farmers. He also holds a BA in agroecology from UC Santa Cruz and an MA in Latin American studies from Stanford University. Daniel has practical on-the-ground experience as a farm and land manager on rural properties in northern California in the 1970s and as a landscape contractor in Santa Cruz in the 1980s.
About Patrick Mulvaney
Patrick Mulvaney is a proud Sacramentan who's cooking career has spanned five time zones and two and a half decades. Moving to California in 1993, he fell in love with the year round growing season and the proximity of the farmers, ranchers, brewers and winemakers. This love continues to fuel both the creative spirits of his team and the appetites of his guests. His travels have taken him from a European apprenticeship through The River Café in Brooklyn, RoxSand in Phoenix, to working with Madeleine Kamman at the School for American Chefs. He began Culinary Specialists in Sacramento in 2001, opening the B&L restaurant in 2005 and expanded to Next Door in late 2007. Patrick loves sharing the bounty of the region, be it in the restaurant, Next Door or on one of the many local farms.