Location
Student Community Center, Multipurpose Room, UC Davis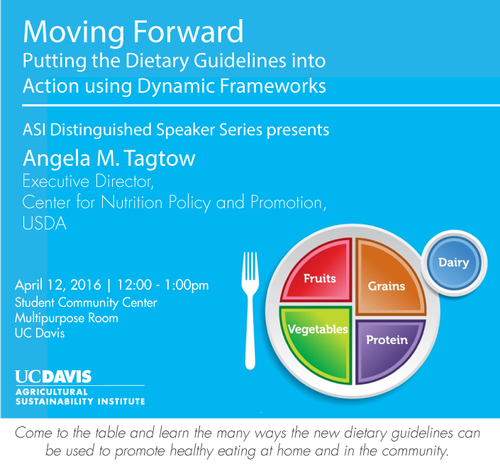 Healthy eating is one of the most powerful tools at our disposal to reduce the onset of disease and decrease how much we spend on healthcare. However, making an impact requires many approaches — across all segments of society — that supports a new paradigm in which healthy eating at home, school, workplace, and in the community is easy, accessible, affordable, and normative. This session will highlight the many theoretical frameworks in which the 2015-2020 Dietary Guidelines for Americans may be put into action.
This event will be relevant to those interested in agriculture, nutrition, public health, and the ongoing work to update the Dietary Guidelines for Americans.
April 12, 2016
12:00-1:00p.m.
Student Community Center, Multipurpose Room
UC Davis
FREE and open to the public
About Angie Tagtow
Appointed in July 2014, Angela Tagtow is the Executive Director for the Center for Nutrition Policy and Promotion (CNPP) at the U.S. Department of Agriculture (USDA) in Washington, D.C. CNPP works to improve the health and well-being of Americans by developing and promoting dietary guidance that links scientific research to the nutrition needs of consumers. Specifically, the Center oversees the state-of-the-art systematic nutrition research reviews of the Nutrition Evidence Library, population-based nutrition and economic analyses, Dietary Guidelines for Americans, the national iconic symbol for healthy eating MyPlate and consumer-based nutrition education resources, and innovative digital tools for consumers.
As a registered dietitian, Tagtow brings to the Federal government almost 25 years of experience in food and nutrition policy, public health nutrition, surveillance systems, research, professional and consumer communication, social marketing, training and education.