Building the Internet of Food (IoF)
PLEASE JOIN US NEXT WEEK:
The inaugural IC-FOODS Conference
November 7-9, 2016
UC Davis Conference Center
FREE FOR UC DAVIS FACULTY, RESEARCHERS & STAFF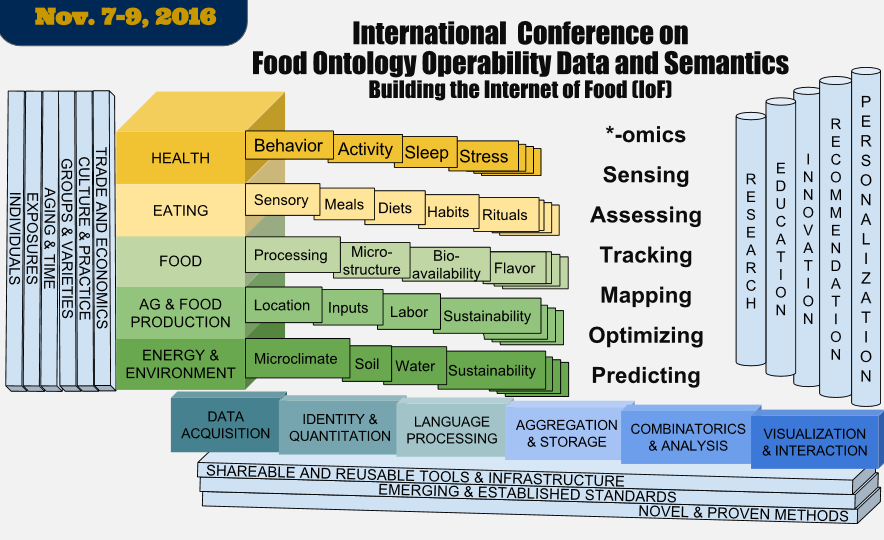 Do you create or utilize data about environment, ag, food, diet or health? Wish you could exchange that data with others more effectively?
Or are you involved in informatics, ontology building, semantic web applications, or Big Data research?  Want to help develop the nascent field of Food Systems, Food, and Health Informatics?

LEARN FROM & NETWORK WITH:
Keynote Secretary Karen Ross, California Department of Food & Agriculture
Executives from Mars, Google, Bayer Crop Science, DSM, Givaudan, and others about the value of a coordinated data system for linking Environment, Ag, Food, Diet, and Health
USDA NIFA Deputy Director Parag Chitnis about their vision for Big Data in Ag and Food
International food ontology developers and data managers: FAO, USDA, Bioversity International, Wikidata, and others, about existing assets, gaps, and how to align efforts and link to their data repositories
A variety of other experts and new and emerging food and ag business models functioning along the Environment⇔Ag⇔Food⇔Diet⇔Health knowledge spectrum 

CONTRIBUTE YOUR EXPERTISE: In particular, we're looking for both domain and informatics experts to help build the semantic conceptual frameworks for including their research areas into the internet of food.
 
DISCOVER new technologies and business models that can be built on the Internet of Food infrastructure being coordinated by IC-FOODS@UC Davis.
---
AGENDA AT A GLANCE
Opens Monday, November 7 at 10:00 am
Concludes Wednesday, November 9 at 12 noon
Followed by a partnership development luncheon

Or attend targeted discussions + workshops on November 8:
Round 1: 10:15 am - 1:00 pm
Track A-1: Field, Landscape, and Farms
Track B-1: Processing, Food Components and Structure
Track C-1: Ag and Food Production Policy
Round 2: 2:00 pm - 4:45 pm
Track A-2: Post-Harvest & Supply Chain
Track B-2: Food Habits and Health Outcomes
Track C-2: Food Processing, Nutrition, and Health Policy

UC Davis participants REGISTER HERE

Non-UCD participants can register here
CALL FOR POSTERS
DEADLINE EXTENDED!
Three $500 prizes to be awarded for best poster in each of the categories:
Environment & Agriculture
Food & Health
Data/Information/Knowledge Computation/Communication/Visualization
Submissions due Saturday, November 5 @ 12:00 midnight:
www.ic-foods.org/call-for-posters
Hosted by: Information Center for the Environment at UC Davis (ICE); Agricultural Sustainability Institute at UC Davis (ASI); UC Davis Food Science & Technology Department, UC Davis Medical Center; with additional support from: UC Davis Innovation Institute for Food and Health (IIFH), UC Davis Libraries, Center for Information Technology Research in the Interest of Society (CITRIS); and many partners.