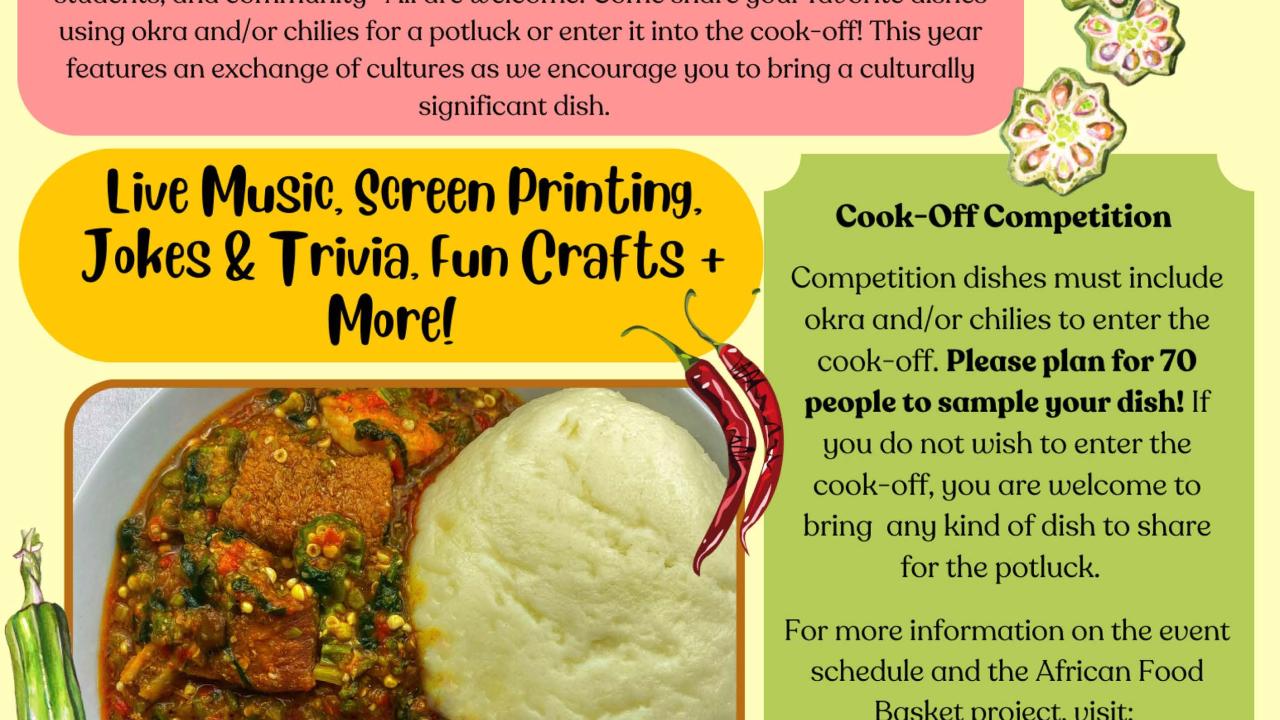 Location
Student Farm Ecological Garden
Please join us for a Potluck featuring African Foods and the 22nd Annual Student Farm Okra-Chile Cook-off!
Learn about the African Food Basket project from Emmanuel Momoh, Graduate student in Geography and SLLC Green Fellow. Celebrate the African student community and cultural foods. See African Crops, take a self-guided tour, and make yourself a t-shirt or tote bag to take home. Taste African foods, and culturally important okra and chile pepper dishes from around the world. 
We will begin with games, tours, and sharing. We'll end with eating, prizes, and screen printing. Come for as long or as little as you're able.
What to bring:
Food to share (a potluck dish or a cook-off dish - see options below)
Your own re-useable plate, cup & silverware (dishwashing station provided)
A t-shirt or tote bag if you would like to screen print

A friend, or your family
This is a potluck AND a cook-off. There are many options for food you might bring! 
Cook a dish to enter in the Okra Chile cook-off OR

Bring an African Food to share for the potluck OR

Bring an okra dish that's special in your culture OR

Bring another potluck dish you like, or rice, fufu, bread or dessert OR

Or just come to celebrate and learn!
Free, organic Student Farm produce will be provided for your potluck dishes @ the Ecological Garden Field House on Thursday 9/7, 12-2pm, Friday 9/8, 8am-2pm, Monday 9/11, 8am-12pm! Okra, peppers, tomatoes, dried beans and more will be available.
Event Schedule
4:30-5:30 Tours, live music, activities, screen-printing, potluck dish set up
5:00-5:10 African Food Basket Project discussion with Emmanuel Momoh
5:10-5:30 African Diaspora Crops Tour
5:30-6:00   Presentation of the dishes + explanation of voting
6:00-7:00   Eating and voting
7:15-7:25 Announce Prize Winners + Presentation of Prizes
7:25-7:30 Okra Anthem 
Prizes!
There will be prizes for multiple categories this year: the Okra Chile Cook-Off winner, the dish that fed the most people, the most innovative dish, African Diaspora recipes, and the dish that included the most Student Farm produce. Check back here for any updates on the competition! 
Questions? email rxswogger@ucdavis.edu