Location
Russell Ranch Sustainabile Agriculture Facility
Seeing the Field for the Crops: Innovations in Data Integration for Ag Management
Join us for the annual Russell Ranch Sustainable Agriculture Field Day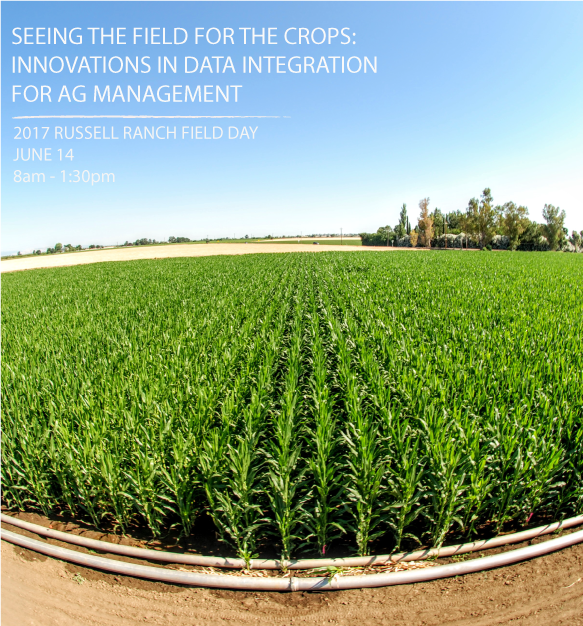 With development of real-time sensors, satellite and drone-based monitoring, metagenomics and other technologies, it is becoming easier to collect large amounts of data about agricultural systems. The next challenge is to pull together these data sets into frameworks that can integrate these disparate bodies of knowledge and translate findings to support choices farmer make.

At this year's Field Day we will present research on tools for converting data into practice, field studies using tools that connect different types of data, and new advances in remote sensing technologies. We will also share some new findings in soil, water, fertility and pest management. 
Registration:  General $10  / Students $5  /  Farmers Free
2.5 Continuing education units are available for CCAs attending field day. 
AGENDA
BARN REGISTRATION AND INTRODUCTIONS
8:00-8:20:  Registration
8:20-8:25  Welcome
IN-FIELD PRESENTATIONS
STOP 1:  Farming Systems
Abdolhossein Edalati and Tyler Barzee:  "Sustainable Biofertilizer Production from Anaerobically Digested Organic Wastes"
Mark Lundy:  "Is there agronomic potential for perennial grain production in CA?"
 Deirdre Griffin:  "Putting an economic value on cover crops: Impacts on profitability and soil quality in a conventional tomato system"
STOP 2:  Soil and Plant Health
Amelie Gaudin:  "Next generation IPM: from soil health to plant health"
 William Horwath:  "Reinventing soil health"
 Jessica Chiartas: "Peering into the Depths: Impacts of 20 years of management on soil carbon sequestration throughout the soil profile"
STOP 3:  Irrigation and Remote Sensing
Daniele Zaccaria and Daniel Putnam:  "Considerations on water and energy footprints of alfalfa production under border check and sub-surface drip irrigation"
 Yufang Jin:   "Consumptive water use mapping with remote sensing techniques " w/Drone demonstration
BARN PRESENTATIONS
 Robert Hijmans: "The use of drones for crop monitoring"
 Alison Marklein: "Insights and opportunities from modeling tomato production systems"
 Gerardo Rivera:  "Russell Ranch Validation site for Land Surface Temperature Measurements and NASA's ECOSTRESS program"
LUNCH and POSTERS 11:30-12:25
POSTERS
(more to come)
Deirdre E. Griffin, Daoyuan Wang, Kate M. Scow and Sanjai J. Parikh. Effects of Biochar on Soil Microbial Communities and Nitrogen Cycling in Two California Nutrient Management Systems.
Jennifer Schmidt: Comparison of drip and furrow irrigation effects on soil health of processing tomato
Rad Schmidt: Energy flow through agricultural systems
Daoyuan Wang: Integrated fertility management: impacts of cover crops plus synthetic fertilizers on processing tomatoes
GROWERS PANEL  12:30-1:15