ASI's own Israel Herrera receives Award of Distinction from College of Agriculture & Environmental Sciences
Israel Herrera, principal superintendent of the Russell Ranch Sustainable Agriculture Facility at UC Davis, has been presented with a 2016 Award of Distinction by the College of Agriculture and Environmental Sciences. The award is the highest recognition presented by the College.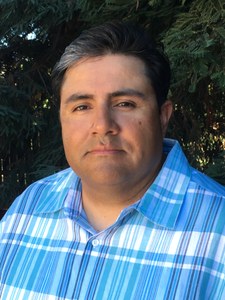 Israel has worked at Russell Ranch, a program of the Agricultural Sustainability Institute, since the Ranch's early beginnings over 20 years ago. Israel has played a vital role in turning the Ranch's 300 acres of land into a bustling center of innovation and research in sustainable agriculture.
Israel oversees the day-to-day operations and research on the Ranch—no small feat considering that the facility consists of more than 80 separate "farms" that are being meticulously tracked for 100 years as a part of the Ranch's Century Experiment.
Kate Scow, professor of Soil Science & Microbial Ecology and director of Russell Ranch, describes Israel's role as a versatile one: "he is facility manager and farmer; researcher, educator and mentor; and the major liaison with our academic and local farming communities."
Israel's passion for agriculture started at a young age. "When I was a boy, my father would occasionally take me to work very early in the morning, but I was extremely eager to get my day started because it meant getting to ride a tractor. I remember thinking, 'If someone let me, I would do this for free.'" Israel started farming as a teenager, working on drip irrigation and tomatoes at Button & Turkovich. By the time he was 18 he was doing his dream job at the helm of a tractor.
Israel started working at Russell Ranch 21 years ago, and has been superintendent there for the past 8 years. Since those early days at the Ranch Israel's accomplishments have rolled in: installing new wireless monitoring systems, expanding the Ranch's research capacities in irrigation, designing new inventions, and working with local farmers and the agricultural industry to bring in gifts of big equipment to the Ranch to improve the facility's research and outreach capacities.
"Israel never just 'gets the job done,'" writes Kate Scow, "he aspires towards excellence and is not satisfied unless the job gets done to his standards. All of us who have the good fortune to work with Israel are graced by his sense of responsibility, compassion and generosity; he is a treasure. I honestly can't think of anyone more deserving of this award."
Israel was presented with the Award of Distinction at the College's Annual Celebration on October 14th. The award is given to individuals whose contributions and achievements enrich the image and reputation of the college and enhance its ability to provide public service.
Congratulations Israel!
Primary Category