Farmworker Awareness Week
Meet Luis Loza Reyes and Gustavo Morales, two of the people essential to the success of our research farm
At Russell Ranch Sustainable Agriculture Facility, It's almost time to seed corn and transplant tomatoes—the beginning of the busy summer growing season.  Russell Ranch functions as both a research farm and a commercial farm, meaning it's important to grow high quality grain and produce for market, but the farm requires special attention to ensure researchers can design experiments and collect quality data.  For National Farmworker Awareness week, we want to introduce you to two of the people at Russell Ranch essential to making both happen.
Luis Loza Reyes
Luis has been with Russell Ranch for the past 3 years as its Principal Agriculture Technician.  He's involved in all field operations from managing seasonal labor and tractor work to teaching student employees the basics of farm manual labor. But his specialty is irrigation systems.  When Luis joined Russell Ranch, they were starting to transition many of their fields to drip irrigation, and Luis worked to design the new system. He works with researchers to design custom irrigation systems for their individual projects, which can require a variety of irrigation types, timing, and amounts. Beyond Russell Ranch, Luis works with departments around the UC Davis campus to help design and build their irrigation.
"Irrigation systems get complicated," says Luis. "Here's we're working with both low-flow garden type irrigation and bigger industrial systems. It's much easier when the system is uniform."  But with a decade of experience doing the work, at Russell Ranch and Button & Turkovich Farms in Winters, CA, Luis' skills make complicated research projects possible, and allow us to gain better insights into the sustainability of our agricultural systems.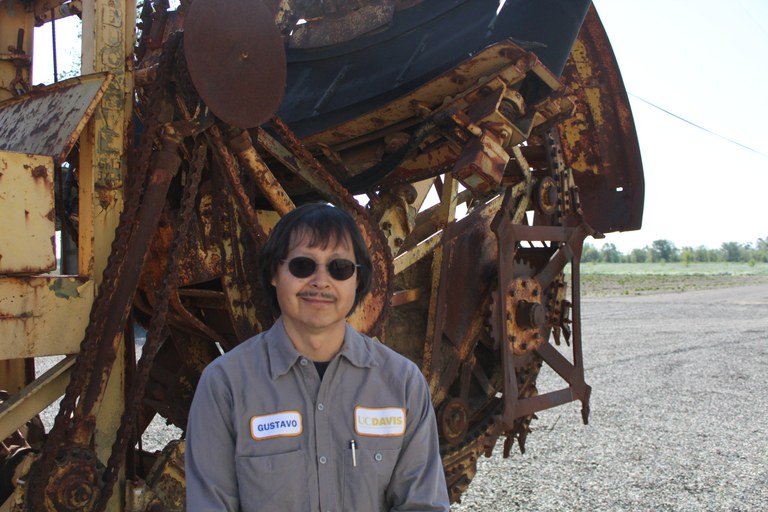 Gustavo Morales
Gustavo is a recent addition to the Russell Ranch team, joining as their on-site machinist in September, but has worked in designing, building, and maintaining farm equipment for three decades. Last year Russell Ranch's barn got an upgrade from a dirt floor to a concrete floor, and brought in the machinery to fabricate farm equipment that meets the specific needs of Russell Ranch. In Gustavo's first few months on the job, he refurbished an old trailer in need of a new floor and electrical system, and built a tractor implement used to pull buried drip tape out of the ground (essential with Russell Ranch's improved drip irrigation system).
Building farm equipment on site means it can be built stronger than commercially available equipment and can be adjustable to serve multiple purposes for the farm.  Gustavo enjoys fabrication, and says he appreciates that at Russell Ranch he has the freedom to design and build equipment from scratch. "I like that you start with simple metal, and end up with something productive," he says.   
In addition to new equipment, Gustavo recently started up a trenching tractor that sat unused for 34 years. His goal for the slow months at Russell Ranch is to get it back in shape and ready to use.
It's important to appreciate the work Luis and Gustavo do at Russell Ranch, along with their colleagues.  Their work is what enables scientists to answer hard questions about agricultural sustainability, and what brings fresh tomatoes to UC Davis' dining services to feed to students.  Thank you both for all you do!
Primary Category