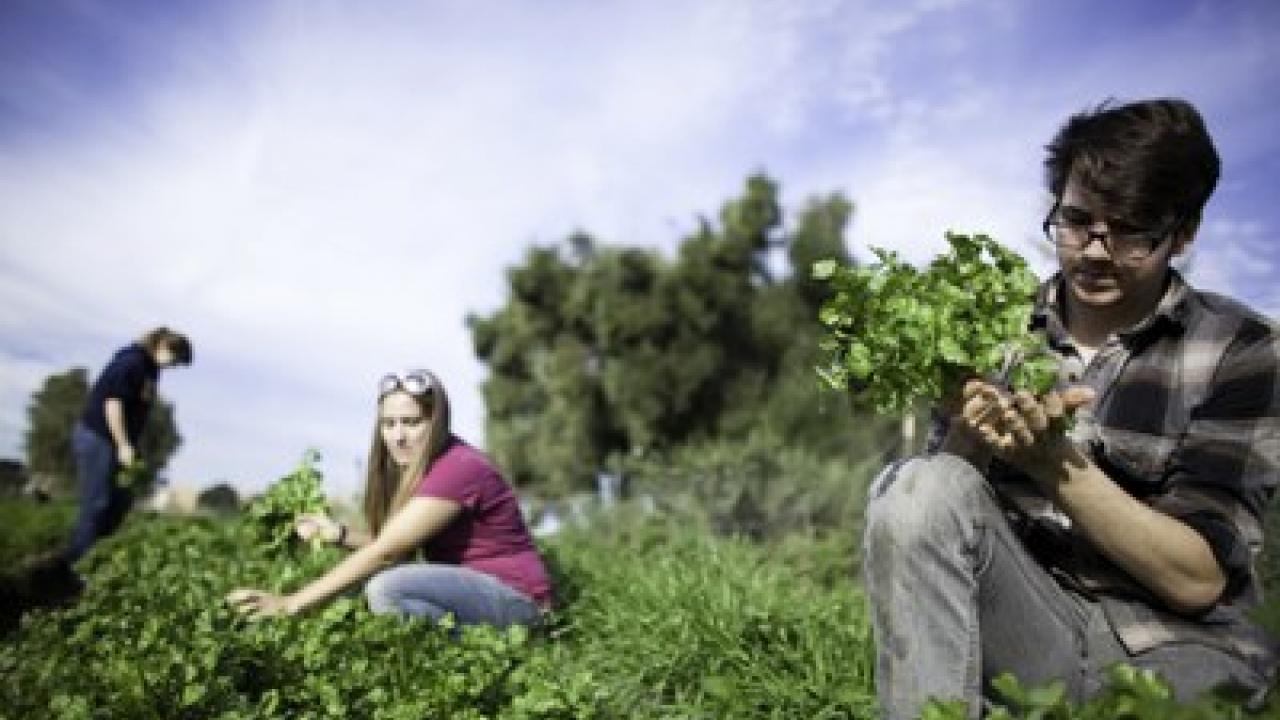 Each year, nearly 2,000 school children visit the Student Farm at UC Davis to learn about growing food, healthy eating and garden ecology from a team of student interns.
As part of the University of California's Global Food Initiative, a student-produced video highlights the farm's impact on students, with roles ranging from volunteers to interns to paid student farmers.

"When you're working to till the food, there's a great love and care that comes from that, a great sense of community and wholesomeness," said UC Davis clinical nutrition student Nancy Zheng, a market garden intern who directed the video. "To know where my food comes from, to know that it will benefit my body, it's amazing."
From well-established student farms at UC Davis and UC Santa Cruz to a crop of new gardens, courses and programs popping up across the University of California system, UC is offering experiential learning opportunities to students at all levels. This hands-on learning offers invaluable real-world experience to students, diversifying their skills, providing leadership development and helping prepare them for successful careers.
Overall, UC offers more than 200 courses and 150 programs related to experiential learning in food and sustainable agriculture systems. For example, farms and gardens provide diverse opportunities for students to participate in activities related to food, nutrition, research, education and outreach, according to a new Global Food Initiative report that highlights best practices, lessons learned and case studies of experiential learning across the UC system.

"There's a huge increase in student interest in experiential learning from gardening to social justice," said Mark Van Horn, director of the 20-acre UC Davis Student Farm, who co-authored the Global Food Initiative experiential learning report with colleagues from UC Berkeley and UC Santa Cruz.

UC Davis, which ranks No. 1 in the world for teaching and research in agriculture, has more than 100 courses and three dozen programs with experiential learning components in food and agriculture. In particular, interest has grown in the sustainable agriculture and food systems major, with more than 100 students who focus on the social, economic and environmental aspects of food and agriculture, including internships and senior capstone courses.  

It's learning in a real-world situation, said Aris Curtis, UC Davis student farmer and a sustainable agriculture and food systems major.

"I get to teach students all different sorts of things," Curtis said. "We do everything from sowing seeds to transplanting baby plants to harvesting to weeding to doing all forms of irrigation that we have out there. It's a great reinforcement for my own knowledge."
UC experiential learning resources
The Global Food Initiative's Experiential Learning subcommittee has produced a directory of UC experiential learning courses and programs that have experiential components in food and agriculture systems; a report with lessons learned, best practices and case studies titled "Learning From the Ground Up"; and released several related student-produced videos. The report's authors include Kate Kaplan, Jennifer Sowerwine and Ann Thrupp, UC Berkeley; Mark Van Horn, UC Davis; and Damian Parr, UC Santa Cruz.
Category