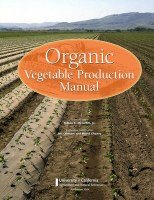 We are always excited when we get the chance to share the work of our staff and faculty.  What excites us even more is when that work is more formally recognized for its quality. 
UC SAREP Program Coordinator, Jeri Ohmart and former SAREP employee David Chaney served as the publication coordinators for the recently released Organic Vegetable Production Manual published by UC Agriculture and Natural Resources (ANR). 
The Manual, which provides detailed information for growers on how to farm vegetables organically and how to succeed in a competitive marketplace, recently received a Silver Award from the 2012 PubWest Book Design Awards.  
Congratulations to Jeri and David, as well as Milt McGiffen, the manual's technical editor and UC Cooperative Extension farm advisor for their hard work and high quality product.  
The Organic Vegetable Production Manual, along with many other publications on agricultural production practices can be purchased through the UC ANR catalog.