The Agricultural Sustai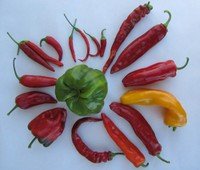 nability Institute at UC Davis and its programs are at two locations at this year's Picnic Day at the UC Davis campus Saturday, April 20, 2013.
The institute is sharing organic pepper plants grown by students at the UC Davis Student Farm. Visit the ASI booth at Robbins Hall along California Avenue from 10 a.m. until we run out of plants.
Learn how to care for your pepper plants.
Also, stop by the Memorial Union booth, where we are handing out samples of Russell Ranch Dried Tomato pesto, cream cheese and julienned dried tomatoes from 11 a.m. to 2 p.m. on Picnic Day. The booth is directly outside the bookstore in the courtyard next to Freeborn Hall.