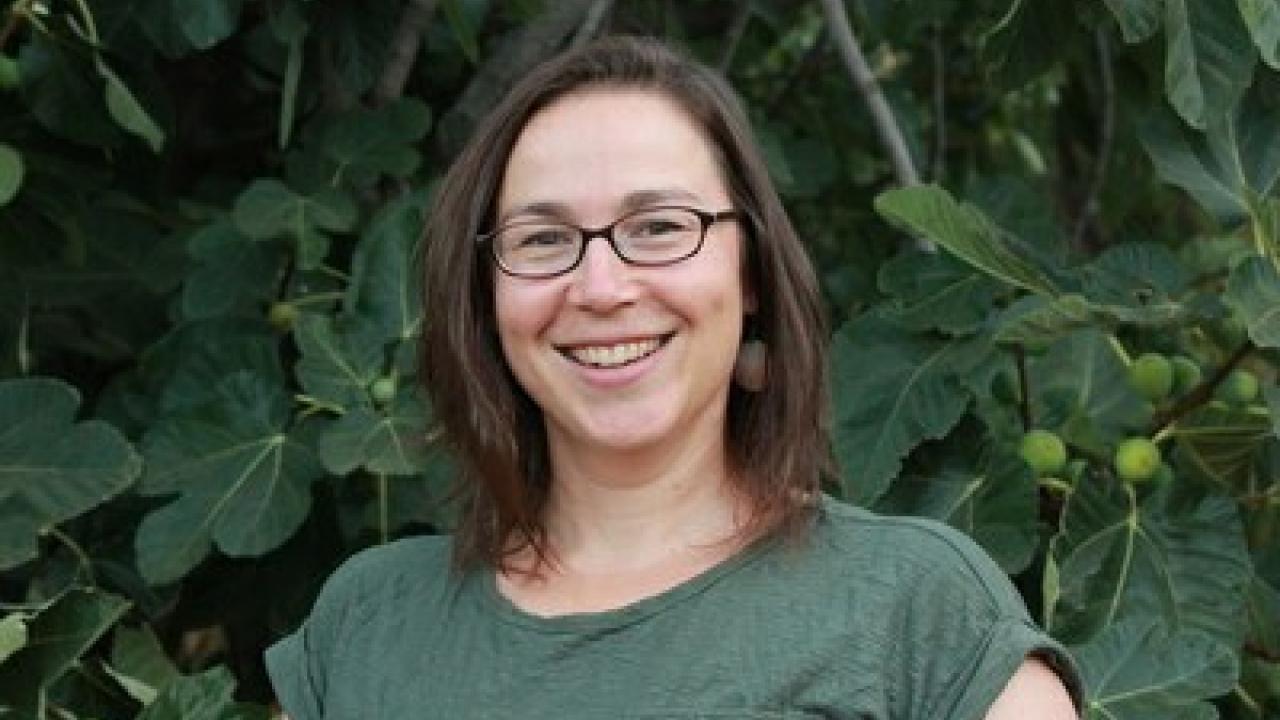 The Student Farm at UC Davis is excited to welcome Katharina Ullmann as the new Student Farm Director. Ullmann's rich 13-year background in sustainable agriculture research and experiential education will provide excellent leadership for the farm's 20 acres of organic vegetable, fruit, and flower production, its campus food security efforts, and its diverse learning opportunities.
The Student Farm is part of the Agricultural Sustainability Institute at UC Davis (ASI), a research, education, and outreach organization addressing major issues in sustainable agriculture and food systems throughout California and across the planet.
Ullmann earned her Ph.D. in Entomology here at UC Davis in 2014, and most recently served as the National Crop Pollination Specialist for the Xerces Society for Invertebrate Conservation, where she led efforts to help farmers ensure successful crop pollination. Her professional background includes pollinator research experiments in collaboration with citizen scientists and growers, environmental education programs for K-12 students, mentoring undergraduates, and five years of farming in the United States and Austria.
Like many of the students who come to the farm, college was Katharina's first introduction to sustainable agriculture.  Through an undergraduate class, Katharina first heard the term "sustainable agriculture," then gained a better understanding of what it meant in practice when a local farmer spoke to her class.
"After hearing that farmer speak to the class, I knew I didn't want to just be talking about these ideas, I wanted to be putting them into practice – that's what motivated me to work on my first farm."  Katharina's interest in translating agricultural theory into practice became integral to her education and career, and continues to motivate her in her new role.
"When I interviewed for the Student Farm Director position, I was struck by how motivated and engaged the students are," says Ullmann. "I think those traits were also expressed by the farm's student founders. I'd like to foster an environment that continues to support student initiative and sustainable agriculture and food systems. I'm stepping in to a strong and motivated community of learners and doers, and I'm excited to be part of that team."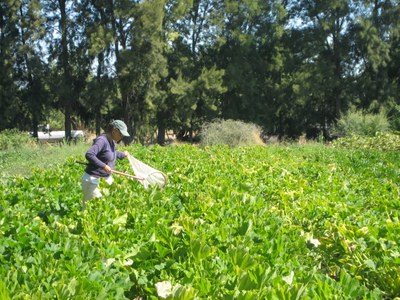 The Student Farm was started by students at UC Davis eager to have a space for experimentation in sustainable agriculture practices.  Now in its 40thyear, with continued support from the UC Davis College of Agricultural and Environmental Sciences and as a key unit of the Agricultural Sustainability Institute, the farm has grown into one of the country's strongest college farms, working with hundreds of UCD students each year as well as elementary and high school students, and public visitors.
The farm includes an organic market garden that supplies produce to the campus community and an ecological garden where students learn gardening and provide garden-based learning for children and teachers.  In the last year, work to provide produce to The Pantry on campus has developed into the Student Farm's Community Table Project, an effort to work closely with campus partners to address food insecurity and cultural inclusiveness in the UC Davis campus food system.  Students at the farm do more than learn farming and gardening; they lead research initiatives, teach workshops in agricultural practices to their peers, and build leadership skills that are transferable far beyond their Student Farm experience.
"Katharina brings impressive experience in sustainable agriculture and a focus on hands-on, field-based education that are indispensable for the students at the Student Farm," says ASI's Director Tom Tomich.
"She understands the challenges farmers face, and can inspire our students just as she has been inspired by her own mentors, including both farmers and scientists. We're excited to see this successful generational transition at the Student Farm under Katharina's leadership, and I am confident it will continue to thrive."
Ullmann replaces Mark Van Horn, who served as the Farm's Director for 30 years and retired this June.
"Mark fostered a positive and collaborative learning environment at the Student Farm and made a profound impact on the Student Farm and broader UC community," says Ullmann. "I am excited to build upon his efforts and those of the original founders."
Ullman's hiring followed a national search that also sought input from across campus. The Student Farm's Associate Director Carol Hillhouse says, "Students, faculty, farm staff, and others in the campus community had the opportunity to meet our excellent group of candidates and hear their visions for student farms in general and our future here in particular. We are very excited to welcome Katharina."   
Ullmann begins her role as Student Farm Director on August 28.  The annual Fall Welcome at the Student Farm, scheduled for October 3, is a great opportunity to visit the farm, learn about sustainability initiatives around campus, and meet Katharina. To make sure you're included in Fall Welcome announcements, contact Aubrey Thompson at abthompson@ucdavis.edu. Katharina can be reached at kullmann@ucdavis.edu.
Category