IAC-INFAS Tribal Fellowship Program
Throughout the 2020-21 academic year, Intertribal Agriculture Council (IAC) and INFAS collaborated to pilot the first Native American graduate student fellowship program in Tribal food systems. After a successful pilot program, IAC has selected 5 new graduate fellows for the upcoming 2021-22 academic year. Each fellow will complete their proposed food sovereignty projects over the course of the year.
INFAS is in the process of matching faculty mentors with the fellows. The entire cohort will engage in monthly shared readings and discussions. The fellows also receive a stipend, direct support from two mentors, and engagement opportunities with IAC. They will each publicly share their work at the end of the year.
The fellows, mentors, and our generous sponsors are listed below. For more information, please contact Kier Johnson at IAC or Melvin Arthur at INFAS. We hope to raise funding to make this program permanent; to get involved with that, please contact Christine Porter.
Current Fellows Volunteer Mentors Fellowship SponsorsAlumni Fellows 
---
Current Fellows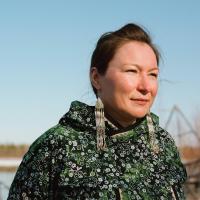 Eva Dawn Burk grew up practicing her Denaakk'e (Koyukon) and Lower Tanana Dene' Athabascan traditions of harvesting salmon, moose, waterfowl and berries and trapping from her family's ancestral lands and waters. Her family lived a semi-nomadic lifestyle along the Tanana River, eventually settling in Toghotthele (Nenana) to attend school. Eva Dawn earned a B.S. from the University of Alaska Fairbanks in Civil Engineering (2007) and worked for ASRC Energy Services as a Senior Project Engineer, specializing in infrastructure, environmental studies, logistics, stakeholder engagement and renewable energy through 2013. Currently, she is working on a Master of Science in Natural Resources and Environment with a focus on "Healing Through Food and Culture." To transition into her new career, she spent the last few years volunteering and working for her villages as a Wellness and Culture Camp Leader, Fisherwoman, Cook and Laborer. She is dedicated to improving food sovereignty and security and community well-being through maintaining traditional lifestyles, advocacy and opening educational spaces on ancestral lands.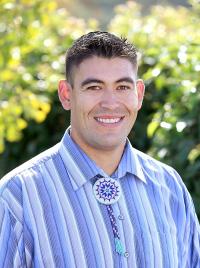 My name is Travis Numan and I grew up on the Pyramid Lake Paiute Reservation and the Reno-Sparks Indian Colony. My background and work experience are in sports and health care and began while I was an undergraduate student and played baseball while earning a Bachelor of Science (B.S.) from Sacramento State University in Kinesiology. Shortly after obtaining a Master in Science (M.S.) from San Diego State University in Exercise Physiology. After working in several tribal communities for 10 years I returned to school to obtain a PhD and am currently enrolled in the Civil and Environmental Engineering PhD program at the University of Nevada Reno (UNR). This program focuses on water resource management for clean drinking water, and wastewater.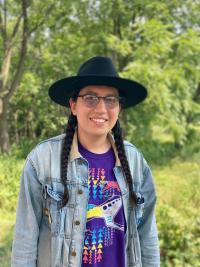 Haa marʉ́awe, my name is Daniel Hayden. Born and raised in Oklahoma, I am enrolled citizen of the Comanche Nation and also Pawnee and Muscogee. I graduated with a B.S. in Plant Biology from the University of Oklahoma in 2019, and currently a PhD student at the University of Wisconsin-Madison in the department of Plant Pathology. My current research is working with tribal corn growers here in Wisconsin on optimizing organic reduced tillage practices and increasing cropping system diversity. We hope this will allow tribal growers to both improve their soil health while being able to upscale production to grow more food for their communities.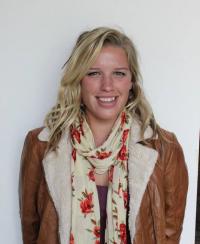 Sierra Hampton, I am an enrolled member of the Chickasaw Nation and I have a B.A. in Political Science from UC Berkeley, and an M.S. in International Development and Management from Lund University, Sweden. I did my master's thesis in Aotearoa New Zealand on the role of the United Nations' Declaration on the Rights of Indigenous Peoples' role there, from the perspective of Māori activists. I also worked with the New Zealand Human Rights Commission on their Indigenous Rights Team and in conjunction with the Independent Indigenous Rights Monitoring Mechanism, and my masters research has been published by the MAI Journal in Aotearoa. I love traveling with my partner to learn about other Indigenous Peoples around the world and how they confront challenges and Indigenize spaces. Combining this with my love for food, cooking, plants, and animals, I am very interested in Indigenous food and seed sovereignty and traditional food systems. I have been engaged in the food system as a farmer, seed keeper and cook. As a UC Berkeley first year doctoral student and Chancellor's Fellow, my research combines agroecology and Indigenous knowledge to analyze challenges to food sovereignty and traditional food systems among the Chickasaw Nation, and support food system revitalization efforts. After completing my PhD, I will continue to support Chickasaw food sovereignty through a youth education food system NGO I intend to create.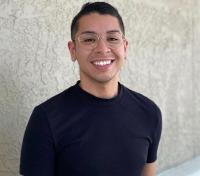 Emilio Daniel Siaz, 2nd year MS student in the Nutrition and Food Science, Nutrition Education program at California State University, Chico. I am from the Pit River Tribe of Northern California and grew up in Redding, CA. I have earned my Associates at Shasta Community College and my Bachelor of Science in Dietetics at California State University, Chico. My research for the 2021 IAC-INFAS fellowship consists of exploring the traditional food consumption and accessibility of the Pit River Tribe of Northern California. My research is rooted in supporting tribal food sovereignty to assist in the battle of chronic diseases. By Incorporating Indigenous research methods, I will capture the art of storytelling to assert the need of traditional foods while identifying what barriers have to be overcome. This research project will be a collaborative effort that will focus on relationship building and community planning to explore traditional food accessibility.
IAC-INFAS Tribal Fellowship Alumni
Melinda Maria Adams
Clifton Cottrell
Cristal Franco
Joseph Gazing Wolf
Leslie Hutchins
Tara Maudrie
Alishia Orloff
Arielle Quintana
Marie Richards
Alexii Sigona
---
Volunteer Mentors
Dr. Tiffany Beckman, Assistant Professor of Medicine, University of Minnesota
Linda Black Elk, Hunkpapa Lakota Ethnobotanist
Dr. Valarie Blue Bird Jernigan, Professor of Rural Health, Oklahome Statue University; Executive Director of the Center for Indigenous Health Research and Policy
Dr. Angel Cruz, Academic and Extension Initiatives Manager, Center for Environmental Farming Systems, North Carolina State University
Dr. Diana Doan-Crider, Animo Partnership in Natural Resources, LLC; Adjunct Professor, Department of Ecosystem Science & Management, Texas A&M University  
Dr. Colby Duren, Director, Indigenous Food and Agriculture Initiative, University of Arkansas
Dr. Trudy Ecoffey, Executive Director, Tanka Fund.
Electa Hare-Redcorn, Pawnee Seed Preservation Project
Dr. Elizabeth Hoover, Associate Professor, Department of Environmental Science, Policy and Management, University of California Berkeley 
Dr. Noa Lincoln, Associate Researcher, Indigenous Cropping Systems Laboratory, University of Hawai'i at 

Mānoa

Dr. Beth Rose Middleton, Professor and Department Chair, Department of Native American Studies, University of California Davis
Michelle Miller, Associate Director, Center for Integrated Agricultural Systems, University of Wisconsin Madison
Dr. Gary Nabhan, Author and Ethnobotanist 
Dr. Stephany Parker, Oklahoma Tribal Engagement Partners
Dr. Rich Pirog, Director of the Center for Regional Food Systems, Michigan State University
Dr. Christine Porter, Wyoming Excellence Chair in Community & Public Health, Associate Professor, University of Wyoming
Dr. Kristin P. Ruppel, Associate Professor, Department of Native American Studies, Montana State University
Dr. Thomas Tomich, Professor, Director of Agricultural Sustainability Institute, University of California Davis 
---
Sponsors