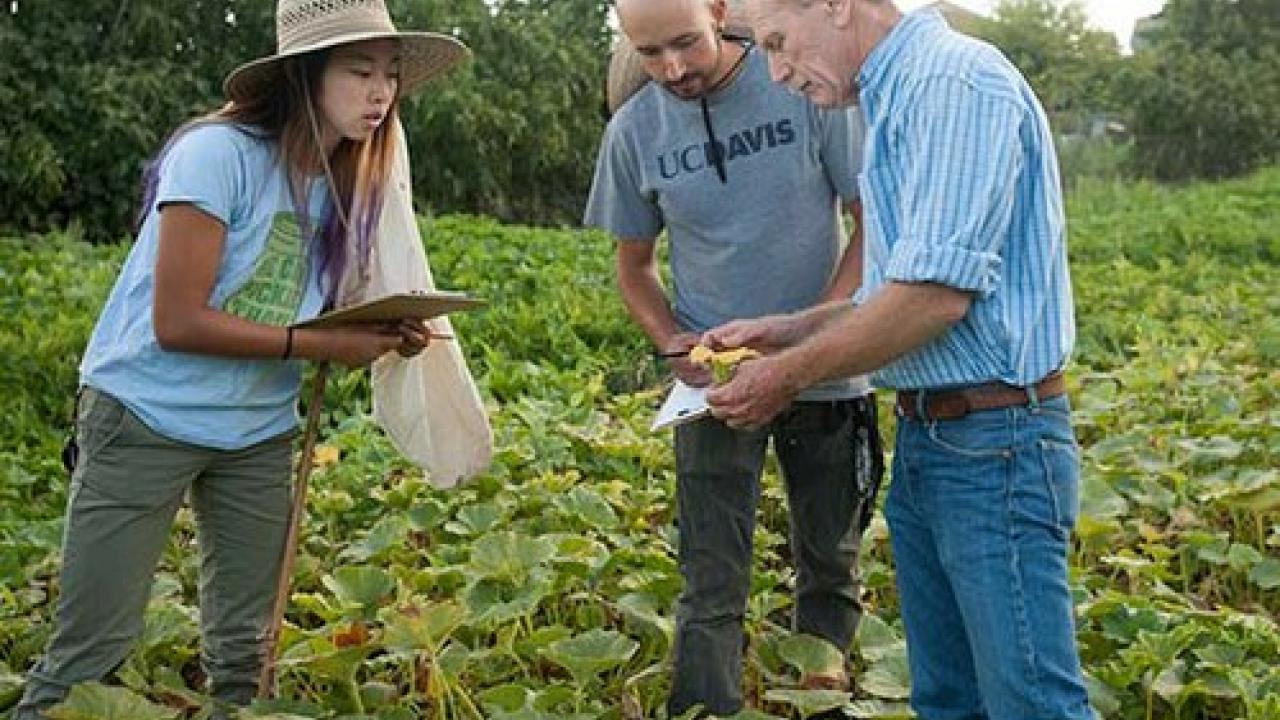 Mark Van Horn, director of the Student Farm at UC Davis was awarded the first Mark Van Horn On-Farm Educator Award, established by the Sustainable Agriculture Education Association and presented during the association's recent biennial conference. In choosing future recipients, the association will look for them to share Mark's passion for teaching sustainable agriculture and engaging students in the learning process.
Mark Van Horn has worked at the Student Farm, a program of the Agricultural Sustainability Institute, for 30 of the farm's 39 years, and has helped develop the farm into an experiential learning facility on campus that educates over 300 UC Davis
students each year, engages elementary school students and teachers from throughout the region in garden-based learning, and provides produce to on-campus eateries and The Pantry. Van Horn was instrumental in starting the Sustainable Agriculture and Food Systems Major now in its fifth year at UC Davis. Each year, he teaches three courses and sponsors dozens of interns in this and other majors.
Ryan Galt, a faculty member in Human Ecology who teaches a core course in Sustainable Agriculture and Food Systems says of Mark, "He has a service leadership model that holds up others as fully capable of understanding their own values and goals, and he facilitates their empowerment to help meet those goals.  If we were to add it up, there have been thousands of lives that have been touched by Mark's work."
But Mark is quick to recognize that his success has been a group effort. "The award doesn't really belong to me, it belongs to the whole community," says Van Horn. "Without the community, I wouldn't have gotten anything done."
By students, for students
The Student Farm began in 1977 by students on campus eager to develop their own research and programs in sustainable agriculture. With support from the College of Agricultural and Environmental Sciences, students worked on projects from testing organic farming methods to aquaculture, plant breeding, and understanding local farm worker well-being and needs.
The staff position Mark now holds came to be when students saw the need for a staff member to manage the administration of the farm and bring continuity to an ever-changing student body.
Since being hired, Van Horn has been clear that he aims to keep the Student Farm run as a partnership between students and staff; the staff facilitate students' collective efforts and empower them to build the farm into a program that meets their own interests and needs.
"I think most of the problems that we face in society around sustainability are present because we actually haven't had enough people at the table making decisions, and people have been disempowered to be able to make decisions," says van Horn. "So part of helping students learn about sustainability is that they need to learn how to be involved in group decision making processes.  They need to learn how to listen to other people so that all voices are heard."
In recent years, increasing numbers of students at the farm have built the farm's Market Garden into a significant supplier of fresh produce for on-campus dining and The Pantry and they have taken on increasing roles in managing the farm and teaching and supervising their peers.  Students have also worked with staff to create a leadership development program that helps them learn to do their jobs better. 
Building a community of learners and teachers
The same principles guiding the Student Farm led to the creation of the Sustainable Agriculture Education Association, a nationwide effort to bolster sustainable agriculture education and focus on how educators teach, not just what they teach. Van Horn was one of the founding members of the SAEA, and helped plan its early conferences. Whereas there was no organization like it 10 years ago, this year's SAEA conference was attended by 350 people from throughout the U.S.  
Krista Jacobsen, professor of Sustainable Agriculture at the University of Kentucky and a steering committee member of SAEA says the committee chose to honor Van Horn because of his long term commitment to experiential education, his quiet leadership, and ability to translate theories of education and teaching into practice.
"He's a steady hand," Jacobsen says.  "He's a long term educator who thinks critically about his approaches, has the experience to know how to make those approaches workable in reality."
Nothing in isolation
Following receipt of the award, Van Horn sent a letter to his community—a humble thank you to students and colleagues. 
"I deeply appreciate and have been profoundly humbled by the honor given to me," he says.  "I also wanted to articulate not only how much I have learned from students and other colleagues over the years, but how much I respect, and am inspired by, so many young people today. You continually amaze - and motivate - me."
In 2017, Mark Van Horn will retire from UC Davis, leaving behind a Student Farm program with strong student and campus support, and a large number of student and alumni leaders in sustainable agriculture who have been involved in the farm.
Laura Tourte, an alumna of the Student Farm, remembers her first introduction to the farm as an undergraduate student at UC Davis in the late 1980s. "I was a little intimidated by the place. But there was never any question about my knowledge of agriculture—or lack thereof. Mark lined me up with opportunities, gave me the space to explore, and challenged me to think more broadly and develop new skills."
Today, Tourte is a UC Cooperative Extension Advisor in Santa Cruz County working on economic and marketing issues and challenges with area farmers.
When reflecting on Mark's career, she recalls biologist E.O. Wilson's call to, "Persist!  The world needs all that you can give!"
"Mark's work persists and he has given the world a lot," says Tourte. "He'd probably say he's gotten a lot in return, and that may be true. But his impact is enormous. Academics often want to focus on metrics and numbers to measure impact, but other aspects are important too.  We all leave imprints on other peoples' lives, some that last forever, and that we may have absolutely no knowledge about.  The positive imprints Mark has left surely extend throughout California, the U.S. and the world." 
Category