Summer Newsletter: Recipe



Michella's Easy Breakfast Scramble Recipe
By Michella Williams, Design, '20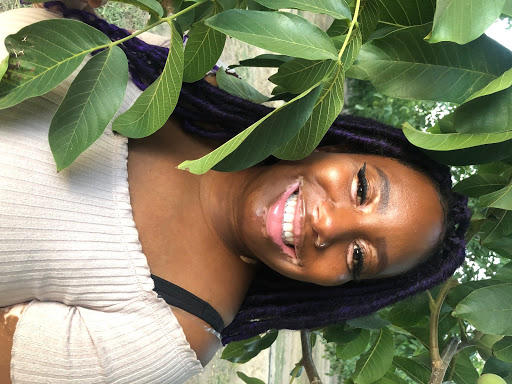 Hi my name is Michella, I am a 4th year design major with an emphasis on advanced textile design. I love color, pattern and texture. As a UC Davis student, I live life on the go. Between classes and studying for exams, it's hard to start the day with a balanced meal. This is why I created this Breakfast scramble packed with a lot of veggies. It has a lot of protein and a lot of fiber to help start the day on a good note. I usually grab whatever veggies I can find in the fridge; therefore, all these veggies are completely interchangeable. The more you change the veggies the colorful and tastier it will be, plus it's fun! ENJOY!
Ingredients: All veggies are interchangeable throughout the 4 seasons.
2 Eggs 

A small handful of Cheddar or pepper jack cheese 

½ Tomato 

½ Jalapeno or 1-2 Thai chilies 

Small red, yellow and orange peppers

1 Potato

½  Onion 

Garlic salt

Black Pepper 

1 tbsp of oil vegetable oil or 1 tbsp of unsalted butter

2 Slices of bread 

Sour cream 

Salsa 
Directions:          
 1. In a small bowl, whisk 2 eggs. As you whisk your eggs, place a pan on the stove and turn the temperature to medium heat. Next grab a knife and a cutting board, then dice the tomato, onion, potato, and peppers. (If you don't want to cut anything. Trader Joes sells roasted potatoes with onions and peppers already diced, seasoned and prepared in a bag. You can find it in the frozen breakfast isle). After, pour a tbsp of oil or butter into the pan, let the butter melt or allow the oil to heat.  
2. After the pan is hot, place your cut veggies into the pan and season to taste with garlic salt and black pepper and stir with a spatula or spoon. When the veggies are cooked, pour the whisked eggs in the pan, then turn the heat to low. Continue to stir until eggs are fully cooked. 
3. While the eggs continue to cook, place 2 slices of bread of your choosing into a toaster oven. When both the scramble and the bread are finished, place both on the plate. Top the scramble with sour cream, cheese, salsa, and the jalapenos or thai chilies. (Thai chilies are really spicy. Depending on spice tolerance, recommended to use 1-2 thai chillies) 
4. Enjoy!  
Primary Category
Tags